PLACE TO EAT
Please get in touch if you would like your restaurant reviewed.
us(AT)gaygoat.com
The best coffee shop in London? After many trips to America where I found amazing coffee shops, the atmosphere was relaxing, you could sit in them and chill or if you wish, study/work. I longed for this kind of coffee shop in London, as faith would have it, I first...
read more
********************
Mama Pacha
Vegan Living-Foods Cafe
1722 D St Michael's Drive
Santa Fe
NM 87505
Tel: +1 505 501 9937
contact@mamapacha.net
Hours 9am to 8pm Mon to Sat
Closed Sunday
FANTASTIC DESSERTS!
********************
Thai Vegan
Healthy First
5505 Osuna Rd, NE
Albuquerque
NM 87109
www.thaiveganm.com
Hours 11am – 9pm Mon – Sat
Sun 5pm – 9pm
********************
HanGawi
12E 32nd Street
(between 5th and Madison Ave)
New York
NY 10016
Tel 212 213 0077 / 212 213 6068
Info@hangawirestaurant.com
Www.hangawirerestaurant.com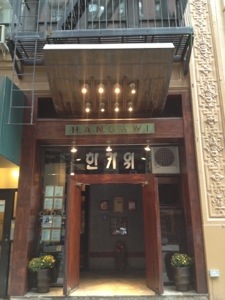 ********************
Blossom Bakery NYC
www.blossombakery.com
Tel: +1 212 242 3339
********************
Blossom Du Jour
Vegan, organic, kosher
www.blossomdujour.com
174 Ninth Ave. Tel: +1 212 229 2595
165 Amsterdam Ave. Tel +1 212 799 9010
********************
Franchia
Vegan Cafe
12 Park Avenue
(between 34th and 35th)
New York
NY 1001
www.franchia.com
Info@franchia.com
Tel: +1 212 213 1001
********************
Caffe Reggio.
119 MacDougal Street
New York‎ NY‎ 10012
United States
********************
Joe's Pizza,
7 Carmine Street,
New York‎
NY‎ 10014
United States
********************
Buddha Bodai
5 Mott Street
New York‎ NY‎ 10013
United States
http://www.chinatownvegetarian.com/
Tel: +1 (212) 566-8388
********************
Babycakes
248 Broome Street
New York‎
NY‎ 10002
United States
http://www.babycakesnyc.com/
Tel: +1 (855) 462-2292
********************
Lula's
516 east 6th Street
New York
Lulasweet.com
Info@lulasweet.com
Tel: +1 616 481 5812
********************
Udupi Palace,
an Indian vegetarian
1007 Valencia St (at 21st St, Mission District)
San Francisco
California
94110
tel +1 415-970-8000
********************
Herbivore
San Francisco/Valencia
983 Valencia
San Francisco, CA 94110
+1 415.826.5657 phone
+1 415.826.5125 fax
http://www.herbivorerestaurant.com/
********************
Uncle Yu's
2005 Crow Canyon Pl Ste
160 San Ramon
CA 94583
www.uncleyu.com
********************
Trinks,
39140 S. Hwy 1,
PO Box 706,
Gualala,
CA 95445.
Tel +1 707 884 1713
www.trinkscafe.com
********************
Raven's Vegetarian Restaurant
44850 Comptche Ukiah Road,
Mendocino,
California
USA
Tel +1 (707) 937 5615
http://www.ravensrestaurant.com/
********************
Living Light Cafe
301 North Main Street
Fort Bragg,
California
USA
********************
Lost Coast Cafe
468 Main Street
Ferndale
California
USA
CA 95536
Tel: +1 707 786 53330
********************