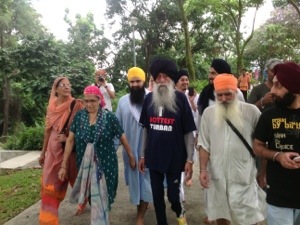 This morning we went to the Gurdwara on Wilkie Road, the Akhand Path was ongoing. Fauja Singh was due to arrive later in the morning to meet the Sangat there. Fauja Singh (Punjabi: ਫੌਜਾ ਸਿੰਘ) (born 1 April 1911) is a British centenarian marathon runner of Punjabi Sikh origin. He is a world record holder in his age bracket. His current personal best time for the London Marathon (2003) is 6 hours 2 minutes, and his marathon record, for age 90-plus, is 5 hours 40 minutes, at the age of 92, at the 2003 Toronto Waterfront Marathon.
Singh has stated, "I won't stop running until I die. The next target, God willing, is to be the oldest marathon runner ever." and, "At the time when people start retiring, I thought of running at the age of 63…and today I won the marathon at 93 years of age."
In 2004, Singh was featured in an advertising campaign for sportswear manufacturer Adidas alongside David Beckham and Muhammad Ali.
Singh holds UK records for the 200 m, 400 m, 800 m, mile and 3000 m for his age group, records all set within a single 94 minute period.
At the age of 100 (and a half), Singh attempted and accomplished eight world age group records in one day, at the special Ontario Masters Association Fauja Singh Invitational Meet, held at Birchmount Stadium in Toronto, Ontario Canada. Timed by officials in Canada, He ran the 100 metres in 23.14, 200 metres in 52.23, the 400 metres in 2:13.48, the 800 metres in 5:32.18, the 1500 metres in 11:27.81, the mile in 11:53.45, the 3000 metres in 24:52.47 and the 5000 metres in 49:57.39, setting five world records for his age group in one day. Each time bested the previous record in that age division (some events had no previous record holder, as nobody over age 100 had ever attempted the distance). Some of his marks are significantly superior to the listed world record in the M95 age group as well.
Three days later, on 16 October 2011, Singh became the first 100 year old to finish a marathon, completing the Toronto Waterfront Marathon in 8:11:06. As it took him over 14 minutes after the gun to cross the starting line, the official time submitted for the age group record will be 8:25:17. However, Guinness World Records refused to include Singh in its record book due to the fact that he could not produce his birth certificate to prove his age. Birth records were not kept in India in 1911, however it is claimed that records written in Urdu date back to 23 February 1879. He was able to produce a passport listing his date of birth as 1 April 1911, and a letter from Queen Elizabeth II congratulating him on his 100th birthday.
In October 2011, Singh, a vegetarian, became the oldest man to be featured in a PETA campaign. In July 2012, Fauja Singh carried the Olympic torch.
For email subscribers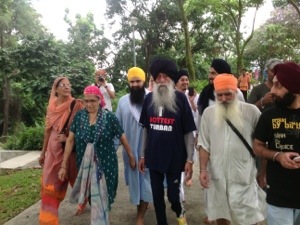 There is around 15,000 Sikhs in Singapore. It is great to see a massive turnout

Yes that is also sarcasm!
Talk given by Fauja Singh

For email subscribers
Fauja Singh talk
A great posture, most people half his age have a poor posture

Fauja Singh led the sangat in a jog around Mount Emily Park, just opposite the Gurdwara (and our hostel). Whilst Fauja Singh was running outside a couple was watching, I invited them inside to hear the talk. Andrew the chap came inside.

Andrew is running in the full 26mile (42km) marathon tomorrow. All the best Andrew. Andrew was very inspired by Fauja Singh, he stayed a while and got Fauja Singh's autograph. Andrew used to be a hedge fund trader in London, he then moved to China. Now that his wife is expecting, they have decided to move to Singapore.
Getting some tips from Fauja Singh's coach, for when I do the marathon. At the moment I am just bulking up!

Whilst Sangeet was having Guru Ka Langar, I popped to Sim Lim Square to purchase the keyboard.
Not bad for SGD$20
Afterwards, we went for a wander in Little India.
Sangeet was looking for a cheap suit, so obviously Little India is the place to go! A Sikh man we passed on the street recommended the Tekka Centre so we headed there.
Me pretending to enjoy Little India

I was getting very wound up, when I saw the shop keepers 'pestering' Sangeet. So two options stay, get wound up and punch the shopkeeper or leave. I chose the latter. As I was leaving the heavens opened up and there was a downpour, I was drenched!
For email subscribers:
I walked past the durian fruit stall, you can smell the fruits from bout 500 yards away and this was in the open. Just imagine it was in a small indoor shop. I was tempted to buy it but the smell from eating durian was still lingering around me!!
In the evening Sangeet went to the Gurdwara where we met.