After a fantastic night's sleep, Phenji made pronthe which were very tasty.
We awaited for veerji to arrive he had a case to present in the law courts.

We chatted to the family for some time, Kumi veerji has a fantastic knowledge of Sikhi and can quote many lines from the Sri Guru Granth Sahib Ji, then gives a explanation.
For lunch we went to Kumi Veerji's sisters house and had a fantastic meal.
The time seem to pass very quickly, we had to get back to Kuala Lumpur to return the rental car.
Unfortunately on the drive back we hit traffic. Avis the rental company are able to pick up from the majority of hotels in KL city centre. When we checked into the Hilton (courtesy of a very good rate through Amex) the Avis office had already closed.
Hilton Kuala Lumpur Hotel
3 Jalan Stesen Sentral,
Kuala Lumpur
Malaysia
T: +60 3-2264-2264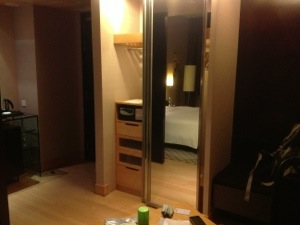 View from the room
In the evening we went to
Wadda Gurdwara Sahib Jln Kg Pandan
15, Jalan Kampung Pandan,
55100 Kuala Lumpur,
Malaysia
T: +60 13 340 8069
www.ourgurdwara.com
And met all the gang. It was fantastic to see them.
The drive back to the hotel